Kealive Stand Mixer, Electric Food Mixer 5.5QT, 6+P-Speed, Tilt-Head Food Mixer
Regular price
$119.99 USD
Regular price
$170.99 USD
Sale price
$119.99 USD
Unit price
per
Sale
Sold out
Share
View full details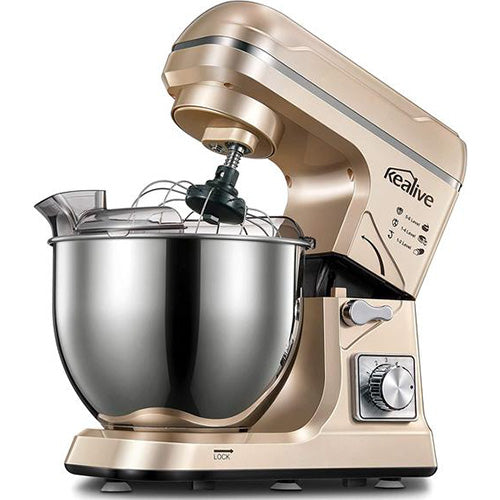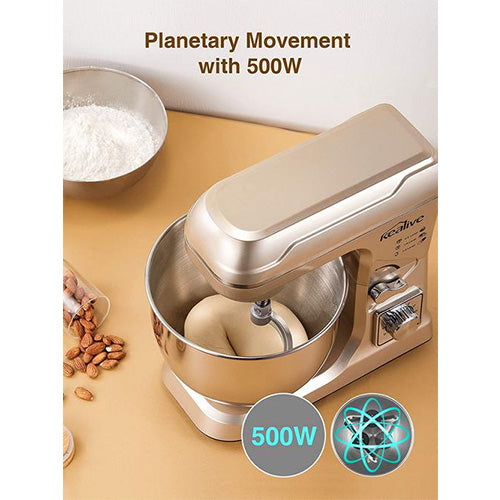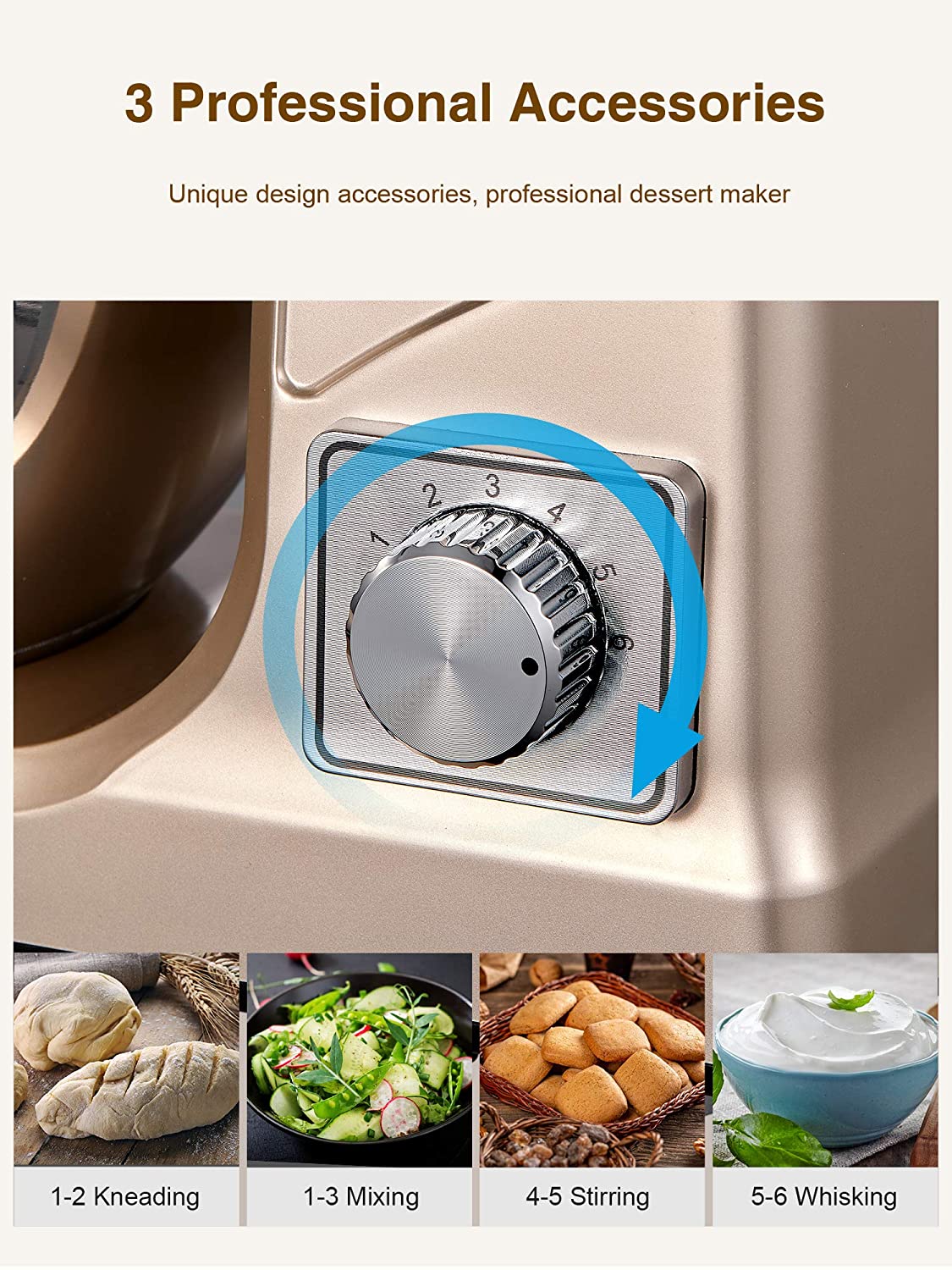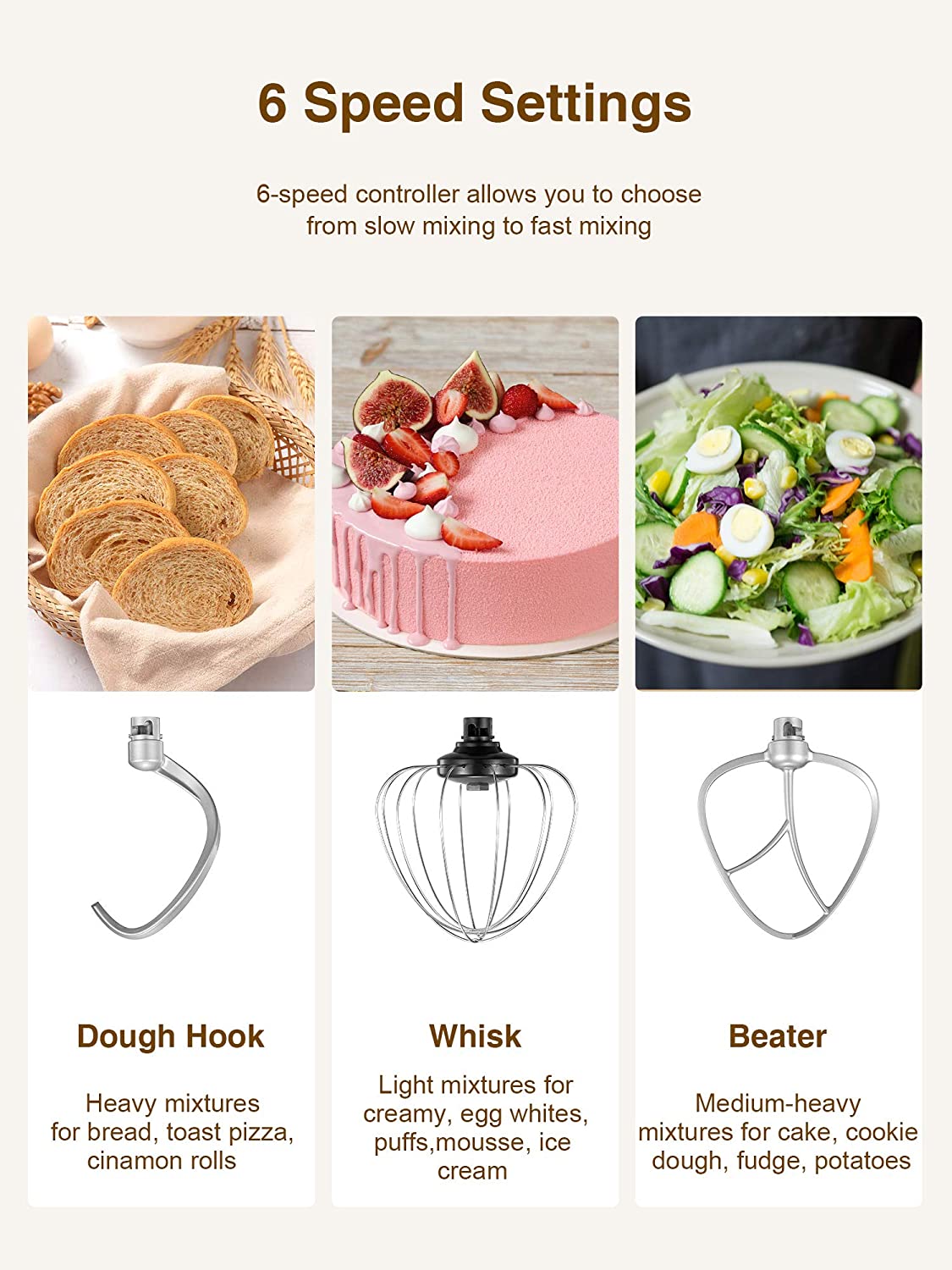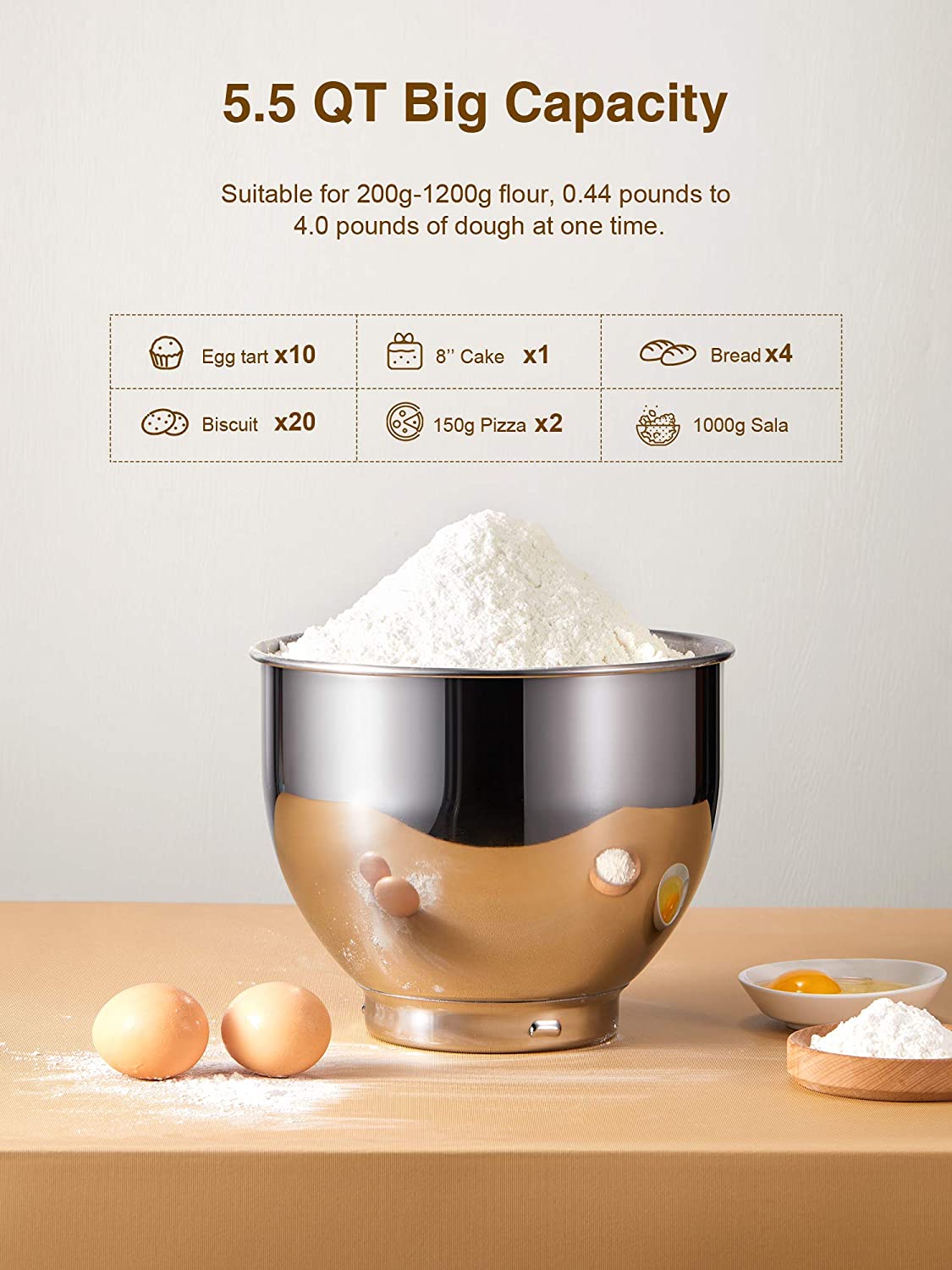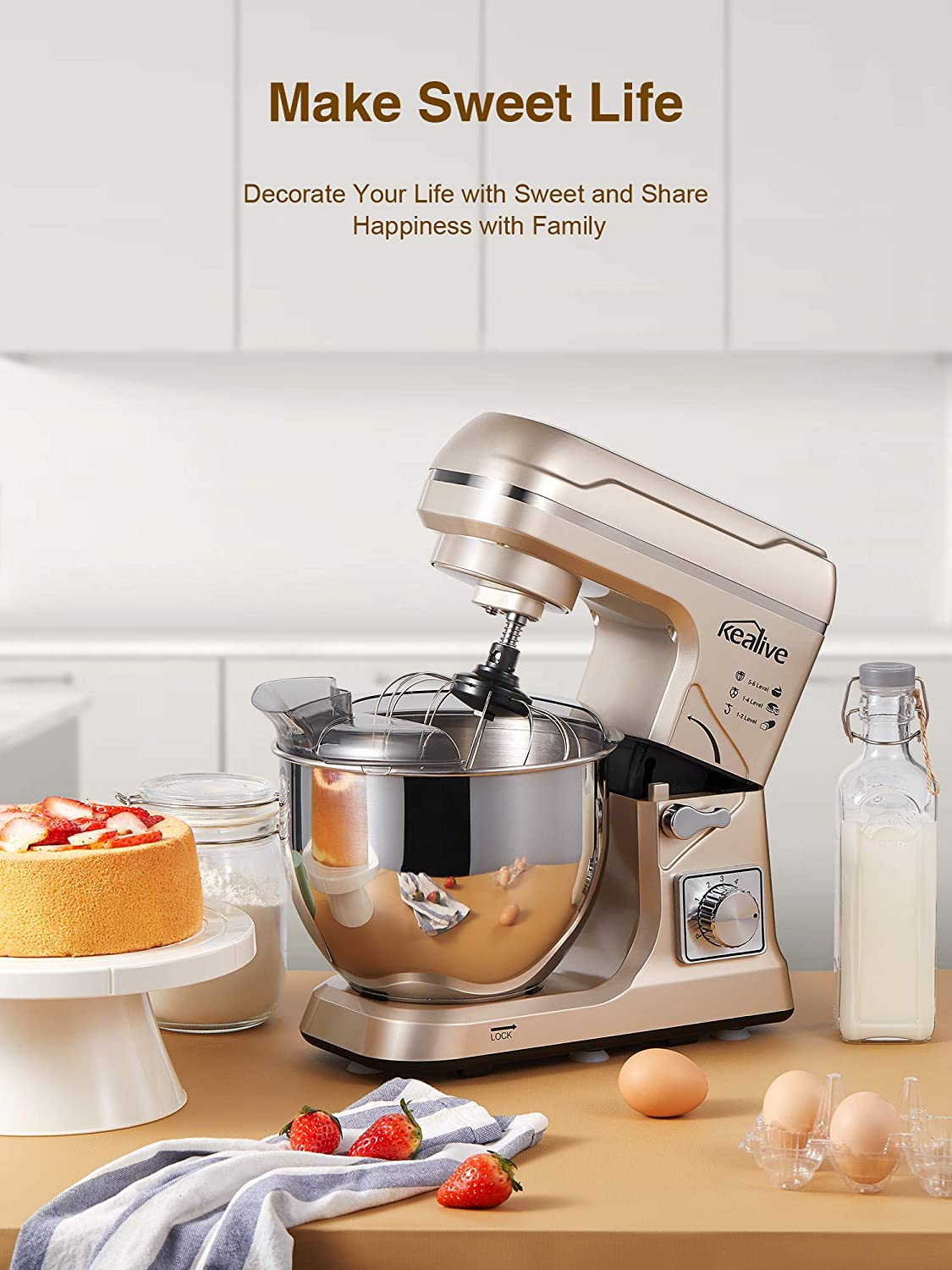 About This Item:
59-Point Planetary Mixing Action:
59 touch points per rotation around the bowl for thorough ingredient incorporation. The beater, dough hook, or wire whip moves 360° in the bowl, giving comprehensive mixing.

🍪3 Professional Accessories:
Flat Beater is perfect for quickly and thoroughly mashing potatoes, mixing cake batter and cookie dough and so much more. Dough Hook mixes and kneads yeast dough with ease, saving you both the time and effort of hand kneading. Wire Whip quickly incorporates air into ingredients for fluffy whipped cream, perfect boiled frostings, and cakes with whipped egg whites.

🍞6+P Speeds Control:
Professionally equipped with 500W and 6 adjustable speed and ''P'' as pulse function, ranges from a very fast whip to a very slow stir, you can find the right speed for flour, egg, cream or salad according to your needs, and mix it evenly.

🎂5.5QT & Stainless Steel Bowl:
5.5QT stainless steel bowl can easily accommodate a family of 5-7 people; a maximum of edible: 1 kg dough, 1.5 liters of butter, or 12 eggs; food-grade stainless steel removable bowl can meet your daily pastry needs.

🍩Safety & Easy Clean:
The transparent cover on the mixing bowl allows the stand mixer to add ingredients without getting dirty, keep your kitchen machines clean. All parts are detachable and can be cleaned safely. dishwasher-safe: dough hook, wire whip & beater, stainless steel bowl. No-dishwasher-safe: transparent cover.

🥐Quality Assurance:
The product has passed ETL and FDA certification, BPA-free. Kealive stand mixer has lifetime technical support, 24/7 customer service.
Kealive Stand Mixer decorate your sweet life
Overview
Kealive Stand Mixer with 5.5 Quart Stainless Steel Bowl is designed for baking enthusiast to enjoy the process of baking. From kneading dough to whipping cream, this machine could do beyond your imagination.
Speed Mode: 6+P Speed 6+P Speed

Capacity; 5.5QT

Wattage: 500W
Attachment: Whisk, Dough Hook, Flat Beater, Pouring Splash Guard, Dusty Cover, Silicone Spatula
Upgraded Accessories, Easy to install
Upgraded die-cast mixer and dough hook, lighter but stronger. The intimate buckle design makes it easier to disassemble and install.
Splash Guard with large inlet
Kealive Stand Mixer comes with pouring shield to maximize the convenience of the food preparation process. It allows you to add extra ingredients during the process.



Tilt Head Design
The tilt-head design mixer allows access to install or uninstall bowl and accessories easily.
In case of safety, the tilt-head could not be released while the machine is on.

Dough Hook
Kneading, 1-2 Speed, ideal for mix and knead dough, butter and candies. Suitable for steam bun dough, bread dough, heavy batters.
Wire Whip
Whisking,
5-6 Speed, ideal for whipping cream, egg whites.
Stirring,
4-5 Speed, ideal for stirring semi-heavy batter and combine sugar, egg white and meringue together. Suitable for cookie, chiffon cake batter.

Flat Beater
Mixing, 1-3 Speed, ideal for slow mixing, mashing. Suitable for mash potato, mixing salad.