DEIK Knife Set High Carbon Stainless Steel Kitchen Knife Set 14 PCS&17PCS, Super Sharp Cutlery Knife Set with Acrylic Stand, Silver
Regular price
$99.99 USD
Sale price
$65.99 USD
Unit price
per
Sale
Sold out
Share
One-Piece Design: Forged continuously in one piece, forged steel instead of stamped so it is stronger and will last longer, staying sharp over repeated uses.

High Carbon Stain-Free Stainless Steel Knife Set: Provides high durability, long-lasting and remarkable chip and corrosion resistance.

Complete Set of Knives: A good set of kitchen knives for those needing a brand new and complete kit. Includes 8" chef knife, 8" carving knife, 8" bread knife, 7.5" stainless sharpening steel, 7.5" shears, 5" utility knife, 4.5" serrated steak knife 6 pieces, 3.5" paring knife and a modern acrylic stand.

Ergonomic Handle: Features curved and tapered handles, that fit perfectly in hand to maximize control and ensure comfort when cutting, slicing, mincing and chopping.

Utility-Driven Knife Set for Kitchen: A good set of knives means you're ready for anything in the kitchen, dicing onions, slicing tomatoes, cutting bread and chopping hard vegetables.
View full details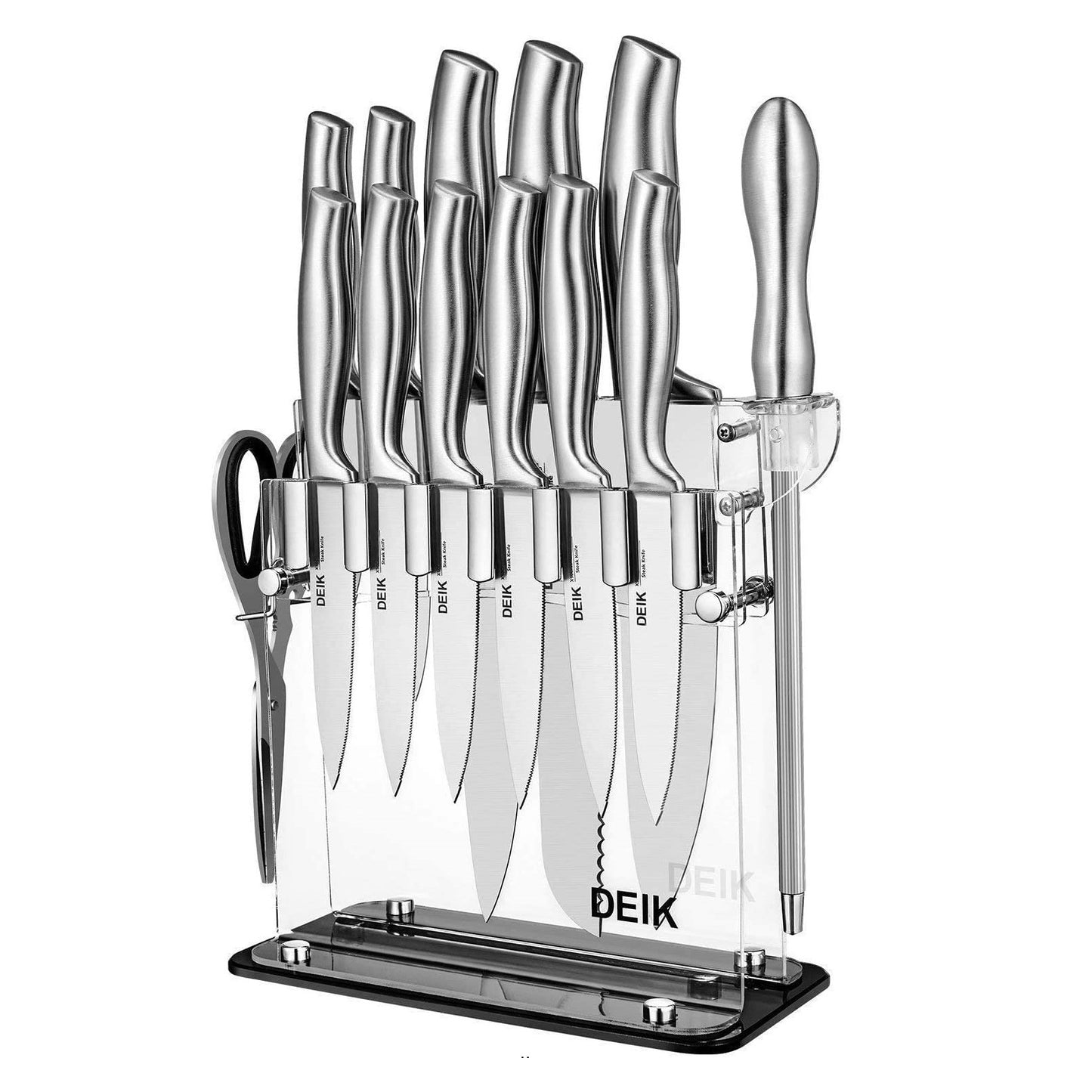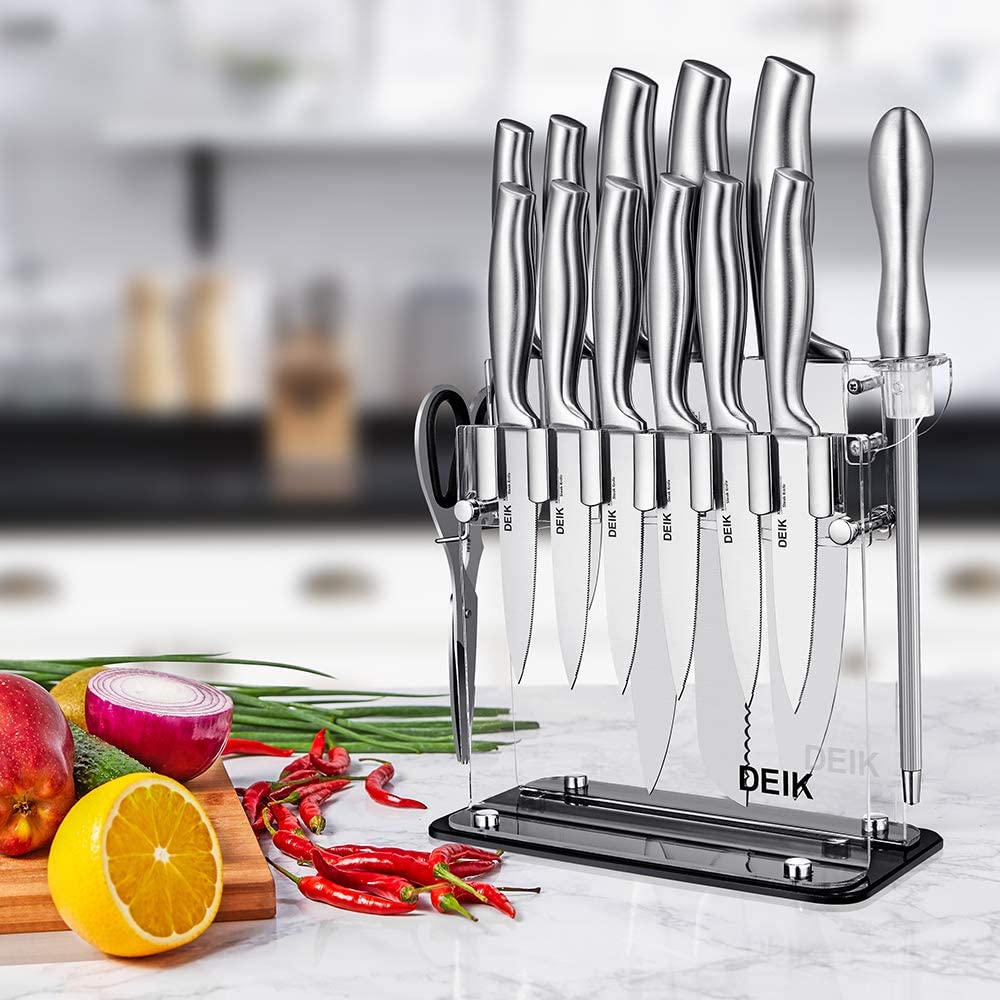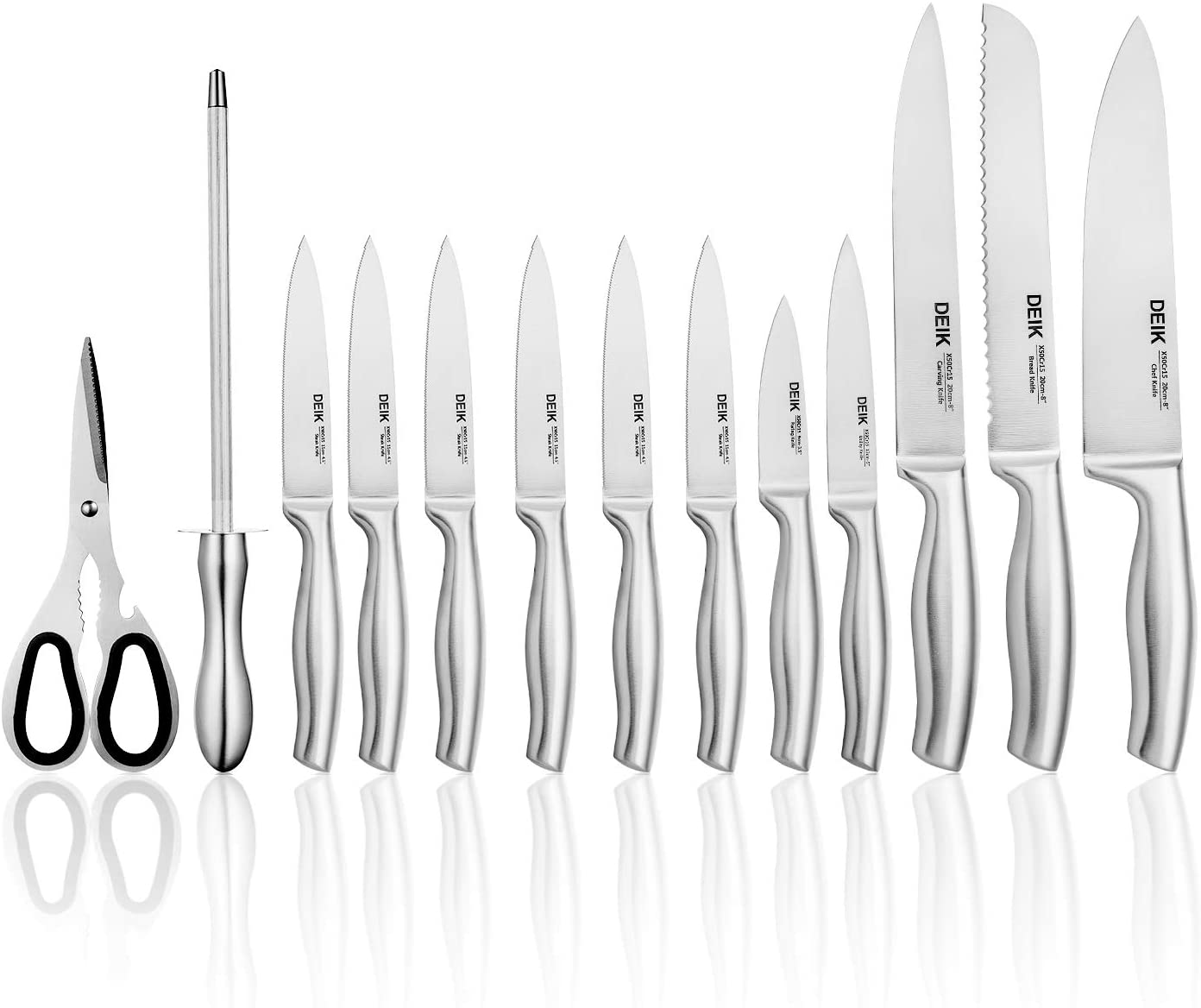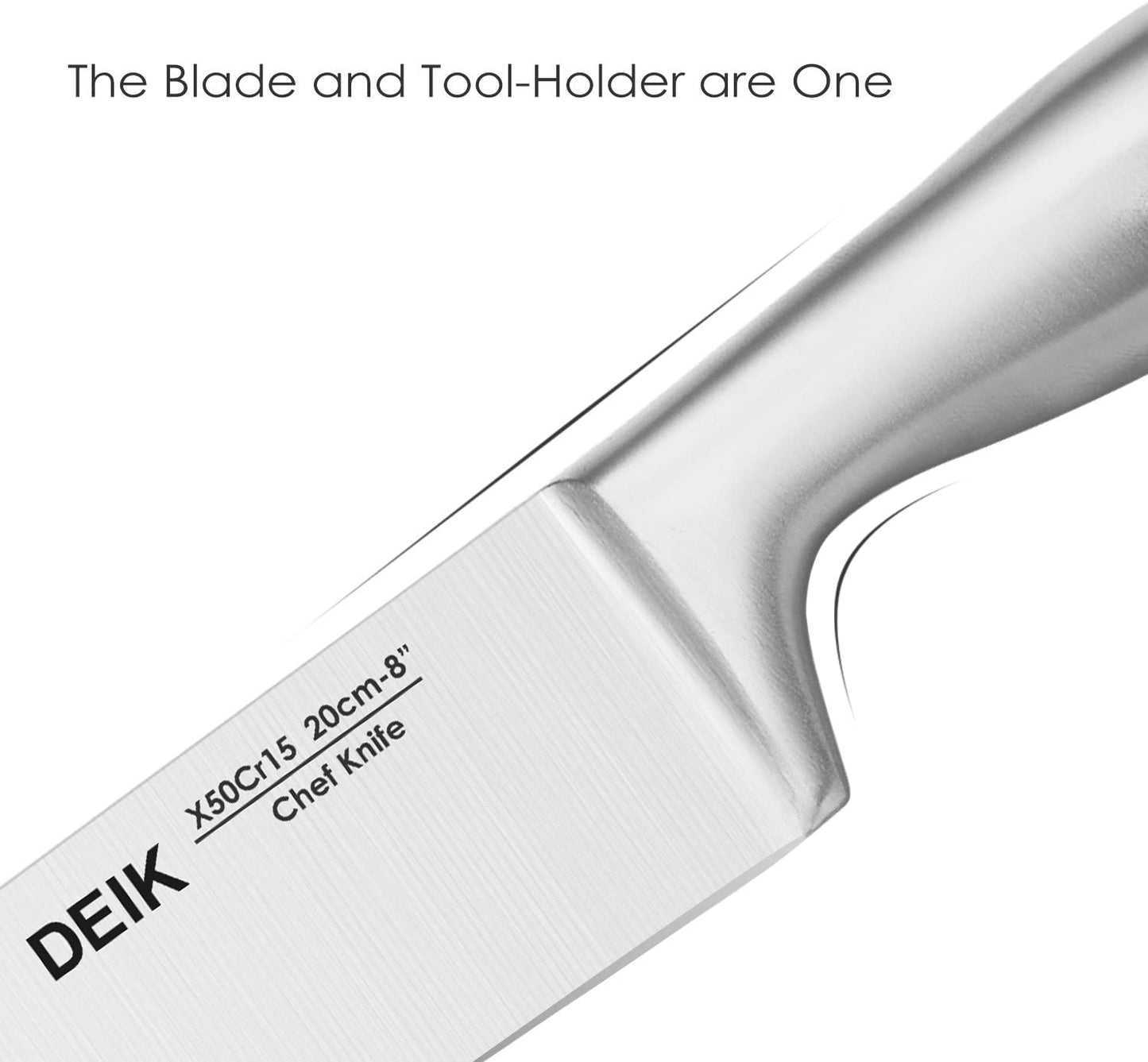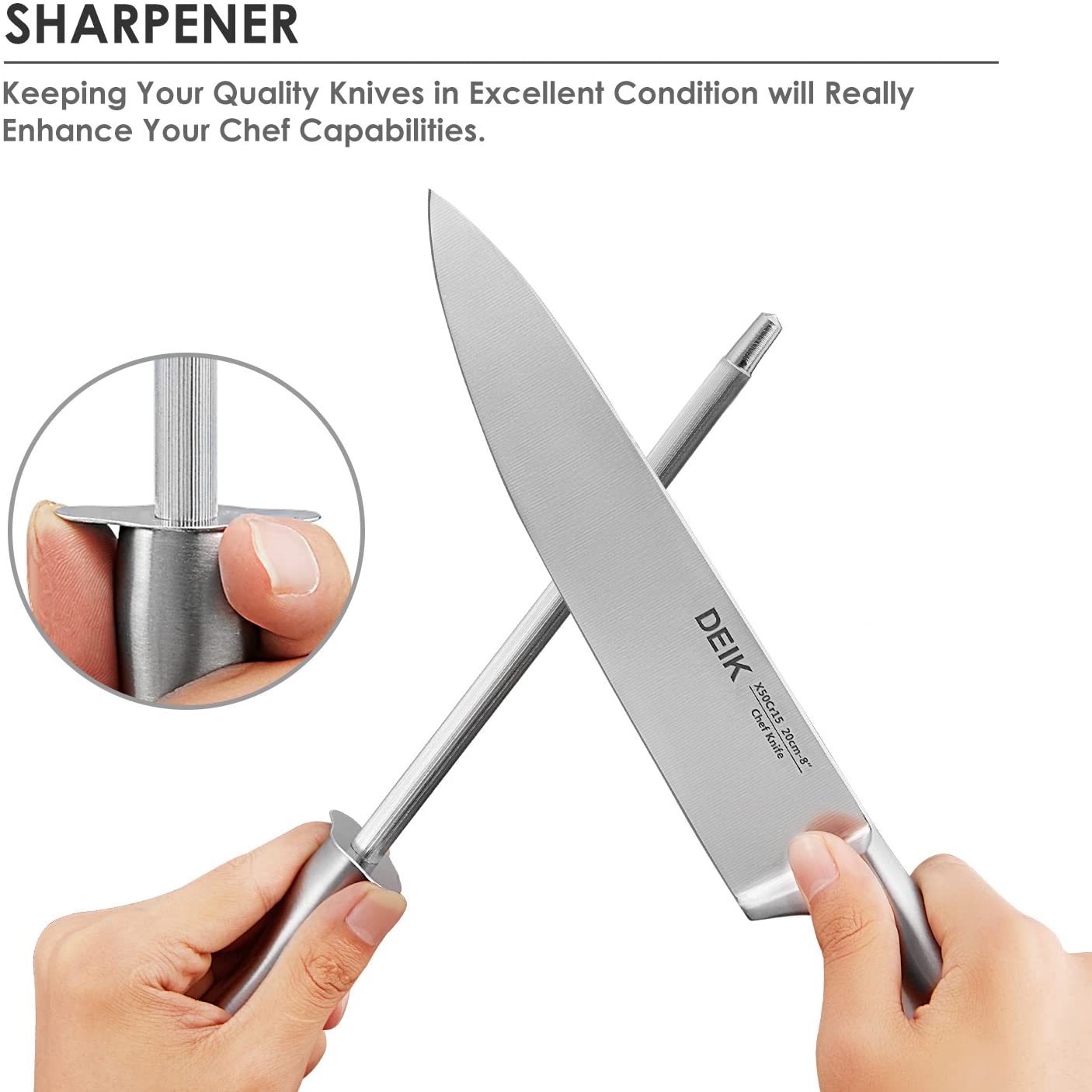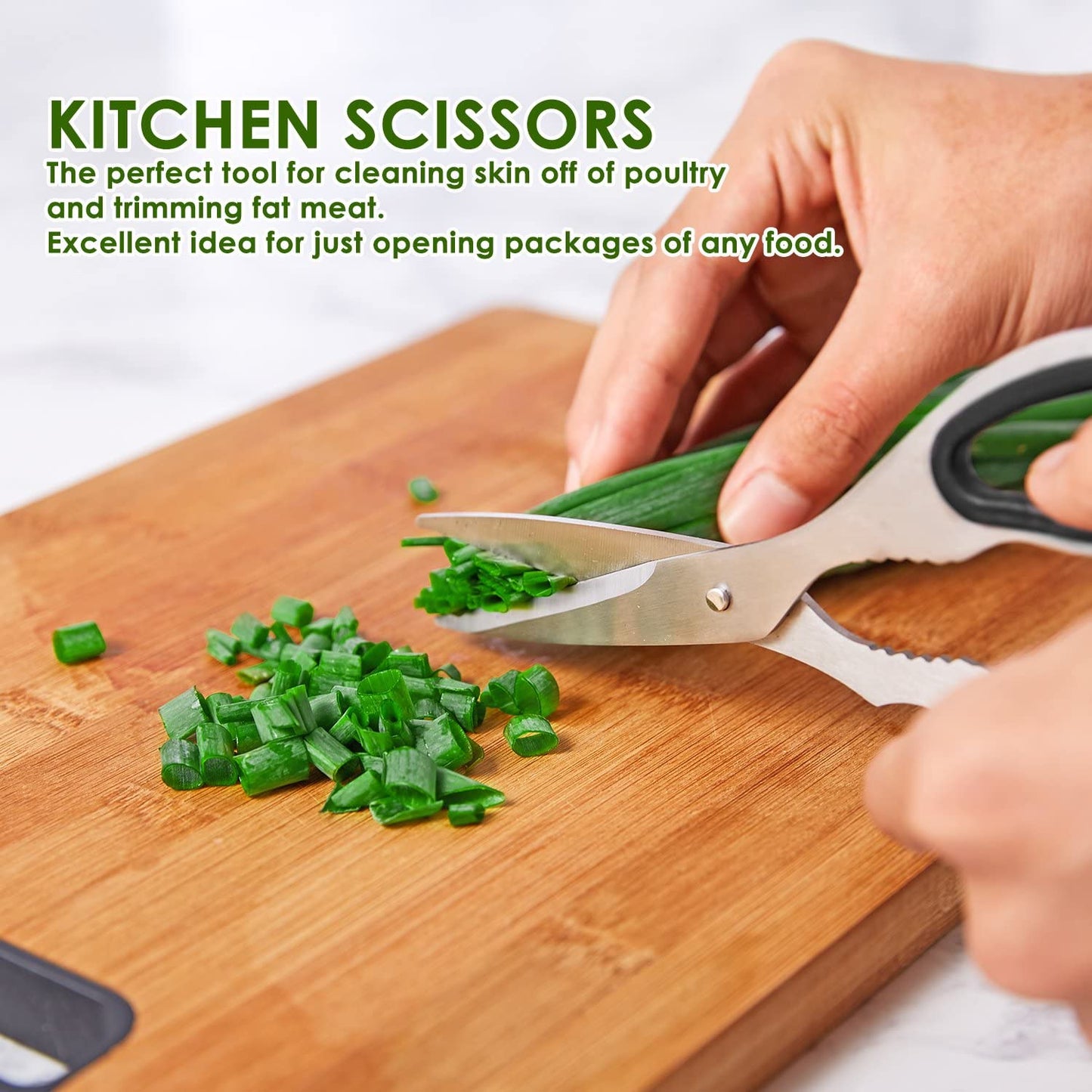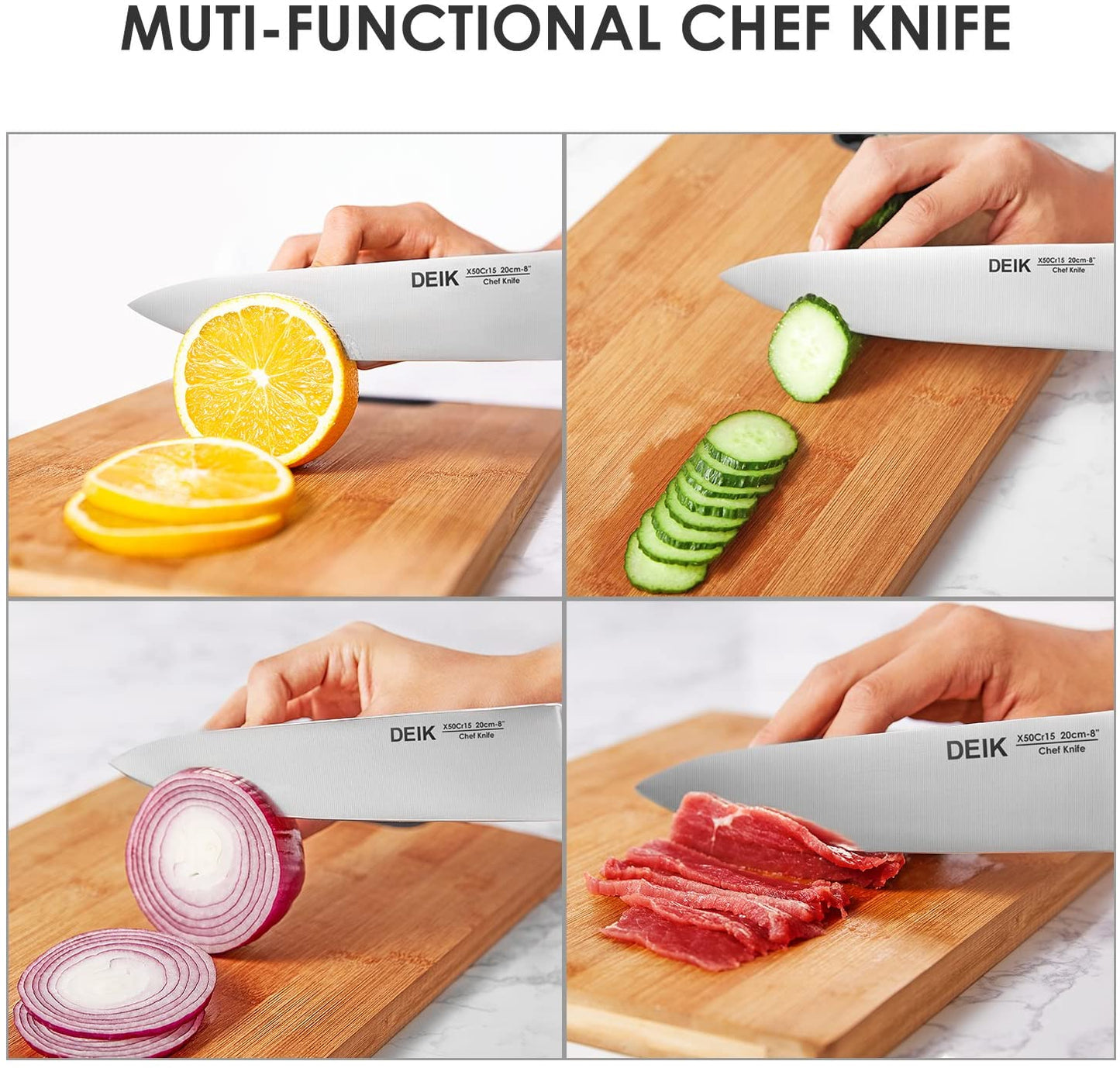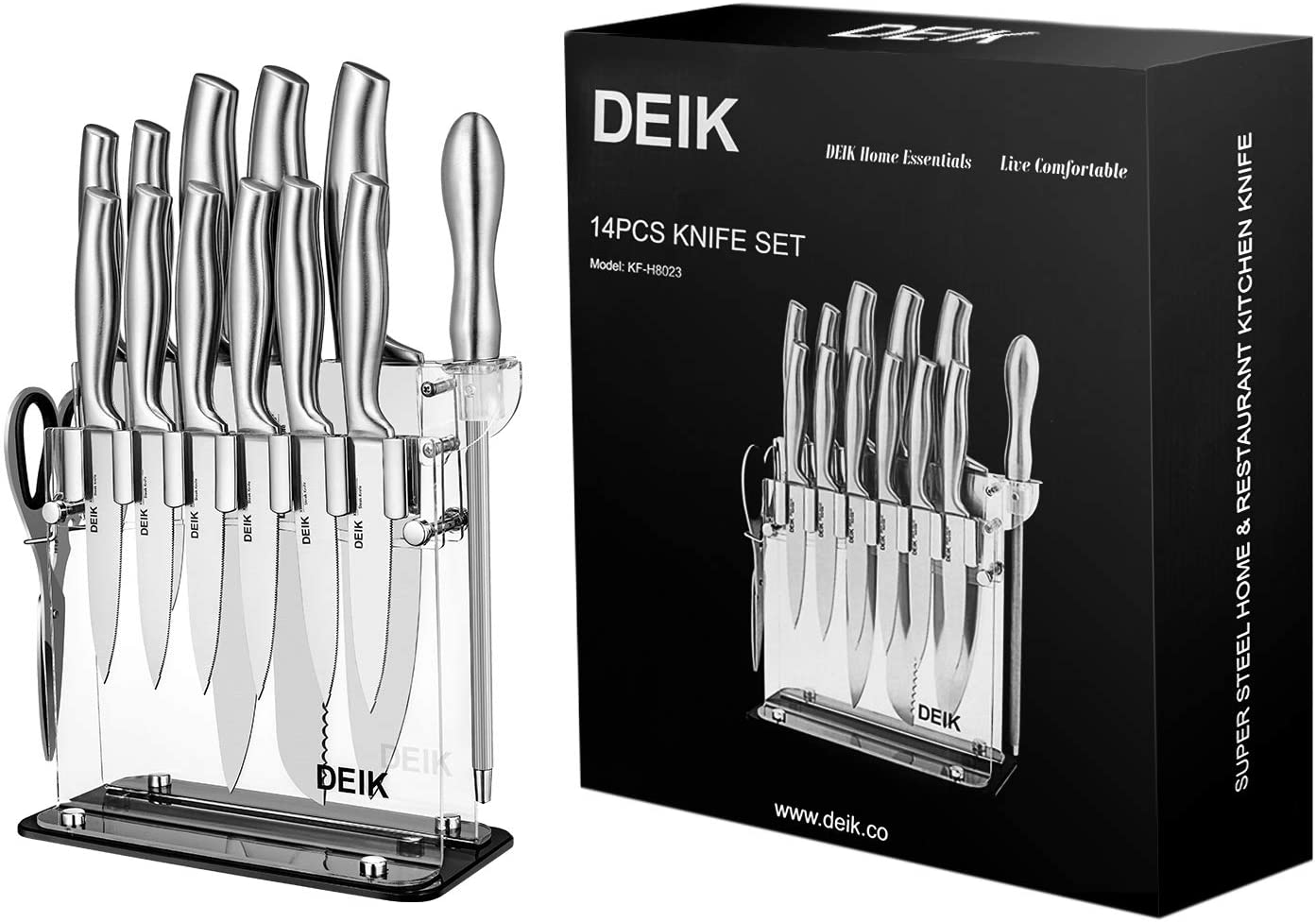 About This Item
VALUE KNIFE SET FOR EACH CHEF:
This premium cutlery set satisfy all the food preparation you could needs: chef knife, carving knife, bread knife, stainless sharpening steel, shears, utility knife, steak knife, even paring knife, sandwich knife, cheese knife, pizza knife, acrylic block.

HIGH-QUALITY AT AN AFFORDABLE RATE:
This professional knife set is in the best performance for cutting, chopping, slicing, mincing, and paring various ingredients such as meats, vegetables, bread and more. The beginner or a master chef can enjoy cooking much easier and faster.

LONG-LASTING SHARPNESS MEET ERGONOMIC DESIGN:
Each knife is forged continuously in a single piece of high carbon stainless steel so it is last stronger, longer and antirust. Ergonomic with curved and tapered handle fit perfectly in hand and maximize the stability and control for everyone.

BEAUTIFUL GIFT FOR EVERYONE:
This perfect set of knife covers is simple and avant-garde. Acrylic block can make each tool stand together, so it will not take up too much space. This is a nice gift for a friend whether they're moving to a new apartment or hosting a big party at house.

WARM SERVICE FOR EACH CUSTOMER:
We are proud of this knife set and all professional team behind it. Properly cared and maintained tools can last longer and show off their charm, we generally recommend hand washing. If you have any issue, please contact us. We are love to help you.
Deik Professional Knife Set

Super Sharp for
Precise Control


Made of
X50Cr15 high carbon stainless steel
extremely sharp
Safe Cutting
Nice Flexibility


Ergonomic knife handle
fit your hand
prevent your finger

Durable
Acrylic Stand


The acrylic stand is
not
subject to decay or rusting


The 14PCS Knife Set Includes
+ 8" chef knife

+ 8" carving knife

+ 8" bread knife

+ 7.5" stainless sharpening steel

+ 7.5" shears

+ 5" utility knife

+ 4.5" steak knife * 6 piece

+ 3.5" paring knife +acrylic block


14PCS
MODEL NUMBER
KF-H8023

The 17PCS Knife Set Includes
+ 8" chef knife

+ 8" carving knife

+ 8" bread knife

+ 7.5" stainless sharpening steel + shears

+ 4.5" utility knife

+ 6" sandwich knife

+ 5.5" cheese knife

+ 3.5" pizza knife

+ 4.5" steak knife * 6 piece

+ 3" paring knife +acrylic block
17PCS
MODEL NUMBER
K3-B8128-17

8" Chef Knife
- Meet various cutting needs
- Use for slicing, cutting, chopping and mincing much more ingredient

5" Utility Knife & 4.5" Utility Knife
- Versatile general use knife



Other Sorts Of Knives
- Meet various cooking needs
- Use for bread, steak, fruit, sandwich, cheese and pizza

I love the steak knives. I bought them for my mom and they are perfect for the average at home cook. Great starter knives. If you are looking for the next stage of knives you aren't going to get them cheaply but for the average cook these are great.


Tiffany Moore

I like this kitchen knife set quite a lot. The most important point is the rack is clear and see through. The older models with wooden racks are very hard to clean and you can't check if the interior is clean or not. With this new one, it's much easier to see. I would recommend it to my friends.

yayawithlove
I love the see through silicone because I don't have to play the guessing game on which knife I'm pulling out, and I don't have to worry if it's moldy or nasty in there. feel like they are sharp enough to get any job done easily and they were a great price. 10/10 would recommend.

Lindsay O

Warm Reminder

Please don't use the dishwasher, hand wash and non-abrasive cleansers recommended.

Please kindly wipe the knife set, put the knife set in a dry place to avoid moisture accumulation.

Please do not leave acid liquid like lemon juice and tomato juice on the knife surface for a long time.

Please store away from children's reach.
The Maintenance of Acrylic Block
Please wipe the acrylic block with a clean cloth, store it in a ventilated place.

Please do not soak the acrylic block in water or other solution for a long time, or expose it to the sun.

It is normal for the acrylic block to have slight deformation, discoloration, or cracking after being used for a long time.